This tab is initially populated with any attachments existing in the Work Order file in FieldOPS.  Currently, the Attachments tab only supports Work Order attachments.  These attachments appear on the Attachments tab with the label No under the Downloaded header.  The first time the technician tries to open these attachments, FieldDesk will download the attachment to store it locally, and the label will change to Yes.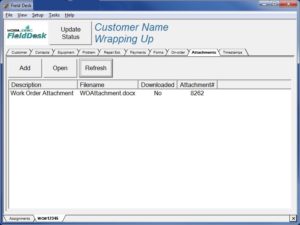 The technician is able to upload attachments to the work order by using the Add button in the Attachments form.  When he uploads the attachment, it will be listed as Yes under the Downloaded header.  Attachments can be opened using the Open button or by double clicking the name of the attachment.  Attachments will open in the program associated with the original file extension.
Attachments will not be available as History on future work orders for the same customer.