Create a folder on the tablet, and copy the contents of the "sync" folder into it.

You can call it anything, but we recommend naming this folder "FieldDesk"

Run the FieldDesk application (fielddesk.exe)

Windows 7 and 8 users: Run as Administrator the first time.

When it comes up, go to:

Setup –> Settings to initialize the tablet for a specific technician.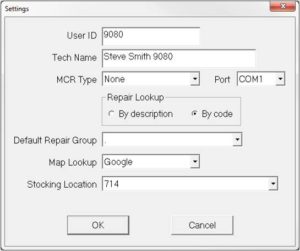 The User ID is the employee number, and it is required.
The Tech Name is printed on the receipt and copied to certain forms.
MCR Type refers to the MagCard reader.  If you specify "None," you can still use a USB keyboard wedge for scanning credit cards.
The Default Repair Group refers to the flat rate group.
The stocking location drop down box should list all of your stocking locations.  This will be set automatically when you check for updates.  This is used to identify which parts are considered to be truck stock.