The MapTools GPS Server is an add-on program for Mobilogic MapTools.  The MapTools GPS Server works with  TomTom, NetworkFleet, Trimble, and FleetMatics GPS providers to track service vehicles, and map them along with service calls in MapTools. 
When you open the MapTools GPS Server (MapToolsGPS.exe), you will be asked for your Employee number, password, and Database location.  This is the same log-in information you use for FieldOPS and MapTools.
Once you have logged in, as long as the Auto Exch button is activated, the MapTools GPS Server displays a log of all the GPS data being collected. 

View Menu:  The View Menu allows you to view or hide the Toolbar and the Status Bar. 
The toolbar is the bar of buttons (Cut, Copy, Paste, Print, Help) above the GPS Log window. 
The Status Bar is the bar below the GPS Log window that tells you the status of the program.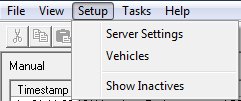 Setup Menu: The Setup Menu has three options: Server Settings, Vehicles, and Show Inactives.
The first option, Server Settings, allows you to set up your GPS Server.  You can set up a  TomTom, NetworkFleet, Trimble, or FleetMatics GPS server using the User ID and Password provided by either of those GPS services.  The Administrator (for notification) is a FieldOPS user who will be notified if the GPS provider cannot be reached. 
The second option, Vehicles, allows you to set up your fleet of vehicles.  This is the same as the Vehicle setup in FieldOPS.  Any changes you make to the Vehicles table in either FieldOPS or MapTools GPS Server will be reflected in both programs.
The third option, Show Inactives, allows you to change the default setting to show any vehicles that have been marked as inactive in the vehicle table.
Tasks Menu: The Tasks menu has one option: Get Fleet GPS Info.  This task is a manual way to get all the GPS information one time as opposed to using the Auto-Exch button to download all the GPS tracking information at regular intervals. 
Help Menu:  This menu will show you information about your MapTools GPS Server license and set-up.  When you click About MapToolsGPS… you will see the following information: